04/23/2019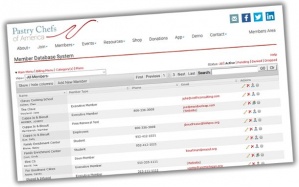 In a recent
article
by Wes Trochlil of
Effective Database Management
, he points out that "Every organization should have some type of data management schedule". Mr. Trochlil inspired this post and we thank him for his inspiration and knowledge!
The staff at MemberLeap and Vieth Consulting (the parent company of MemberLeap and several other divisions of specialty products) try to adopt some of the same principles pointed out by Trochlil when we work with our clients and prospects and their data. Data integrity is very important, no matter how it is used. It is one of, if not, the most important asset an organization has in its arsenal.
---
Every consultation with a client or prospect is different. There are always some similarities though when it comes to data and how they interact or use it. One action that our most successful clients and our favorite prospects execute effectively is what we call a "data management plan", which consists of a series of processes that identify and verify the integrity of an organization's data. These processes are reports or database checks that can help you identify potentially incorrect data, duplicates, or incomplete data within a database.

Here are the top five things to keep in mind when instituting a data management plan:
Outline which processes need to be executed – Identify the key data points within your organization that you know need to be kept as up-to-date as possible. What data is tracked, how is it entered, who enters it, how will it be used, and who needs to see the reports?
State how frequently these processes need to be executed – Not every process needs to be executed every day. Identify how often each process needs to be performed - daily, weekly, monthly, quarterly, annually, etc., or in some ongoing capacity.
Identify and outline which reports should be used in each process – For certain processes, there are regular reports available to run and for more detailed or specialty reports, queries may need to be created. Which category do they belong in - billing, renewals, events, learning systems, licensing/certification, donations, sales, etc.
Specify who is responsible for performing or executing each process – Assign each report or process to a staff person, department head, trainer, accountant, board member, or supervisor with detailed instructions on the who, what, where, when, and how of the process.
Where are these reports to be stored and who has access to the results? – Ease of access and file structure/location will be critical to making this data useful to the organization. Who has permission to access which reports, does there need to be a back-up made, and where are they stored? These are critical to the usefulness of the data within each.
As Trochlil states, "the most important aspect of this plan is discipline." Your team must have the discipline to execute these processes regularly and to ensure the data is continuously updated, cleaned, reported, and stored for ease of use. Every organization should have some type of data management plan to effectively deal with the most important item in your arsenal - your data. Does your organization have a plan? How important is your data to what you do as an organization?

At MemberLeap we can help you manage all of the steps to an effective data management plan. Don't take my word for it, read what just a few of our clients have to say about us.